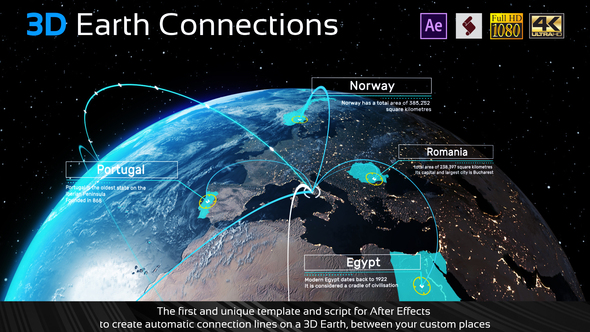 IMPORTANT UPDATE FOR CUSTOMERS WHO BOUGHT THIS TEMPLATE BEFORE 10-26-2020
The geocoding service used in the version 1 of 3D Earth Connections is no more available, please download and install the new update.
IMPORTANT: The new script MUST be used with the new project file, you can't use the new script with the 3D Earth Connections project of the previous version.
3D Earth Connections is a new template and script for After Effects CC2014 and above, that allows you to create connection lines between different countries on a 3D World model.
3D Earth Connections is not a simple pre-rendered animation with built-in connections on predefined places, which cannot be replaced or moved. With this template you can create your own animation choosing unlimited points to connect!
Use the included "location Finder" tool to find and place a pin on your city, region or country, select two countries to connect and press the "Create Connections" button!
3D Earth Connections project requires a plugin that you can download for FREE from www.videocopilot.net/orb
This Plugin has some system requirements, so before purchasing this template make sure to have them
Adobe After Effects cc2014 or above
1 GB+ Graphic card memory
CPU must support SSE4.1 or later (Most Intel CPUs that were released after 2007 should be supported.)
The following AMD CPU series do not support SSE4.1: Sempron series, Athlon series, Athlon II series, Phenom series, Phenom II series
Operating system: Windows 7 SP1 and above – Mac 10.8.5 and above
NVidia GPUs on Mac OSX Mojave are NOT SUPPORTED!
Check that your GPU is supported HERE
How can I be sure that this script works on my machine?
The script doesn't require hardware requirements, if you want to be sure that you can use this template, simply download and install the free plugin "Orb" from www.videocopilot.net/orb.
If the plugin works on your machine you can be sure that 3D Earth Connections will work as well!
Features
Full HD and 4K versions included
Compatible with After Effects CC2014 and above
VC orb Free plugin is required
Expressions universalized (the project works with all After Effects languages)
Compatible with Mac and Pc
Video tutorial included
Free updates
Free Support
Check out the review of 3D Earth Connections by "Boone Loves Video" Channel
Music used in the video preview is not included but you can purchase it from https://audiojungle.net/item/corporate-motivation/19255198

UPDATE 10.26.2020
- Updated the license verification system
- replaced the geocoding service
- Added Earth border lines
- Now you can add border lines on the highlighted countries, choosing the thickness and the color
- Minor bug fixes
- 
Update 12/12/19:
- Replaced the search countries with the list box
- Fixed a bug using the "hexagon" pin 
- Fixed a bug that caused "United Arab Emirates" and "Czechia" not included in the countries to highlight
- Minor bugs fixes