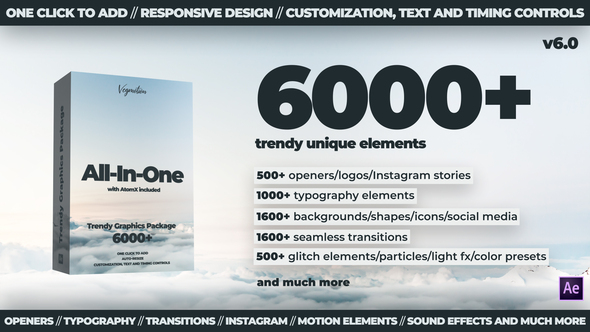 All-In-One Pack v6.0
All-In-One Pack is a perfect motion graphics collection for creating any kind of slideshows, openers, social media stories or title sequences for all sorts of audience – Youtube, Facebook, Instagram, TV, just anything. Over 6000 elements will bring your video production to another level. It is so easy to use that any user with any kind of experience can do it – from those who's just started a Youtube video blog to video editing professionals who value their time.
6000+ motion graphics elements
After Effects CC 2019 and higher
Powered by AtomX
Free updates
Categories
Openers – Minimal, Glitch
Instagram Stories – Trendy, Minimal, Fashion, Travel, Quotes, Corporate, Food, Sport, Romantic, Grunge, Wedding, Shopping, Retro, Urban & Elegant
Logo Reveals – Minimal, Glitch
Clean Typography – Minimal, Lower Thirds, Devices, Numbers, Kinetic, Quotes, Callouts, Big, Captions, Super Simple
Stylized Typography – Particles, HUD, Vintage, Labels, Popups
Special Events Typography – Fashion Week, Business Conference, Wedding, Christmas, Easter
Glitch Typography – Flicker, Displace, VHS, Shake
Social Media – Clean & Glitch Titles, Buttons, Icons, Swipes, Mockups
Shapes – Basic, Flicker, Memphis, Abstract, Arrows, Handdrawn
Flat Backgrounds – Lines, Circles, Patterns, Shapes, Noise,
Gradients – Two Colors, Twirl, Aurora, Lines, Chromatic
Special Events Backgrounds – Wedding, Birthday, Valentine's Day, Easter, Independence Day, Halloween, Thanksgiving, Christmas
Various Backgrounds: Glitch, Digital, Glow, Luxury, Papercut
Ramps – Two Colors, Three Colors
Icons – Minimal I & II, Special Events
Widgets
Transitions – Camera, Fade, Glitch, Grunge, Light, Minimal, Multiframe, Particles, Split, Typography, Warp
Color Correction – Basic, Duotone, Gradient, HDR, Soft Glow
Light FX
Glitch – Bad Signal, Color, Digital, Lens, Pixel Sorting, Pixelation, Shake, Stretch, VHS
Grunge
Particles
Sound Effects – Glitch, Whooshes, Fast Swooshes, Swipes, Hi-Tech, Notifications, Pops, Impacts, Game, Interface, Magic
What's inside?
6000+ motion graphics elements
AtomX 3.0.5 extension
Documentation
Credits
Changelog
Spetember 14, 2021 - v6.0
- 80+ Instagram stories: Urban, Retro, Elegant & Shopping
- structure changes (it's better to install the package from scratch)
- minor bug fixes

August 24, 2021 - v5.6
- 100+ Instagram stories: Minimal, Food, Grunge, Romantic & Sport
- minor bug fixes

July 21, 2021 - v5.5
- 100+ Instagram stories: Fashion, Travel, Corporate, Quotes, Wedding & Independence Day
- new version of AtomX

June 2, 2021 - v5.4
- 120+ backgrounds & overlays: Digital, Grunge, Papercut, Glow & Luxury

May 4, 2021 - v5.3
- 170+ backgrounds: flat, special events, glitch and ramps

April 19, 2021 - v5.2
- 245 minimal festive icons for wedding, birthday, Valentine's Day, Independence Day, Halloween, Thanksgiving and Christmas

March 8, 2021 - v5.1
- new Easter elements: titles, icons, backgrounds, stories
- the Numbers category is back with a few new scenes
- new openers

January 29, 2021 - v5.0
- tons of new elements
- the pack requires After Effects CC2019 to run
- structure and bug fixes
- no Numbers category anymore, it will be added with a big Infographics category in the next update

May 27, 2020 - v4.1
- new AtomX extension
- minor structure and bug fixes

February 26, 2020 - v4.0
- minor bug fixes
- slight project structure changes
- 100+ procedural light and particles FX
- new Super Simple Titles category - just fade in and different layouts
- new Vintage Titles category with 60 retro elements
- new elements in various categories

November 22, 2019 - v3.0.1
- minor bug fixes

November 13, 2019 - v3.0
- minor bug fixes
- new Glitch category with 350+ elements
- 150+ fresh sound effects
- around 300 new elements in various categories
- new Adjustment category: color correction, duotones & tritones presets

September 21, 2019 - v2.1
- minor bug fixes

September 16, 2019 - v2.0
- minor bug fixes
- around 300 new transitions
- around 150 sound effects
- 100+ new elements in various categories
- 850+ elements can now be used in Premiere Pro as MOGRTs

August 12, 2019 - v1.0
- initial release