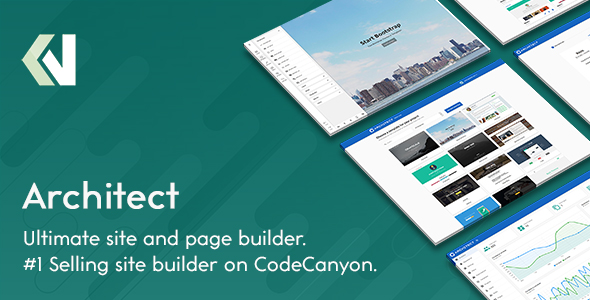 Architect is a powerful and easy to use website and html builder. It can be used in several different ways: as a personal builder, SaaS application, integrated into existing projects and more.

Admin Area
You can see a demo of admin area by logging in with username: admin@admin.com and password: admin, note that destructive actions like deleting and editing are disabled on demo site.
It's recommend to register for a new account on demo site if you want to test the builder, because default admin account is shared between multiple users.
Features
Easy Installation – Install Architect easily with no coding or server knowledge in a few minutes with our easy to use installer and documentation.
Text Editor- Double click on any text content to open a text editor where you can modify the text contents and apply and remove various styles to highlighted text.
Live Editing – easily, visually and in real-time edit most of elements properties like padding, margin, border, shadows, backgrounds, text styles and more. Or edit html, css and js manually via integrated code editors for maximum control of the project.
Publish and Export Download whole project, publish it to a remote server via FTP or attach custom domains/subdomains to display projects.
Templates – Architect comes with over 20 pre-built templates and you can easily upload any html or bootstrap template from admin area.
Flexible Elements System – Use one of over 40 elements included with architect (and more to come in free future updates) or easily create your own custom elements.
Advanced Drag & Drop – Easily move elements in the builder by dragging and dropping them where you want them to appear.
Undo Manager – Made a mistake or want to step back to a previous iteration? No problem, use the integrated undo manager to undo and redo any action in architect.
Editable Landing Page – Default landing page can be easily edited via built-in appearance editor with live preview and no coding knowledge.
SaaS mode – Earn money with built in premium subscription system. Create different plans for users to subscribe to and control what functionality and limitations each plan has.
High Performance – Architect is lightweight and has lighting fast performance and page load time out of the box.
Dark Mode – Architect comes with pre-built light and dark themes. You can fully customize them or add new themes via appearance editor.
Custom Pages – Custom pages (for example terms of service, about us etc) can be created using built-in WISIWYG editor.
Menu Editor – All the menus across the site can be easily edited and reordered via drag and drop without any coding knowledge.
Appearance Editor – Easily manage your site appearance (colors, logo, landing page, menus etc) via built-in appearance editor.
Ads – Paste ad codes into integrated ad slots in admin panel and Architect will display them automatically.
Roles & Permissions – Assign roles and permissions to users to give or restrict access to specific functionality on the site.
Analytics – Google analytics are integrated right into admin panel so you don't need to open a separate page to see how your site is doing.
Translatable – Site can be easily translated from admin panel, it also has multi-language suport.
Responsive – Architect is fully responsive and will work on desktop, mobile, tablet and other devices.
Documentation – Architect comes with in depth documentation that explains everything from installation to creating custom elements.
SEO Editor – SEO tags for all pages can be modified directly from appearance editor in admin area.
Authentication – Fully featured authentication system with social login (facebook, twitter and google), normal login, registration, password recovery, account settings and more.
Disable Registration – Registration can be fully disabled from admin panel so only users you create manually from admin panel will be able to login.
Professional Design – Pixel-perfect professional design based on google's material design.
Settings – Admin panel has many settings that allow you to fine-tune the site to your needs.
Multiple Homepages – Choose between multiple homepages including landing page, login page or your own custom html page.
Context Menu – Right click on any element to bring out the context menu with a variety of general options like moving elements up and down with more precision when drag and drop allows and options for that specific element like adding rows and columns to a table.
Source Code – You will receive full, unencrypted source code upon purchase, allowing easy custom modifications.
Requirements
PHP >= 7.3
PDO Extension (enabled by default)
php_fileinfo Extension (enabled by default)
MySQL Database
Latest version 2.2.3 | Changelog