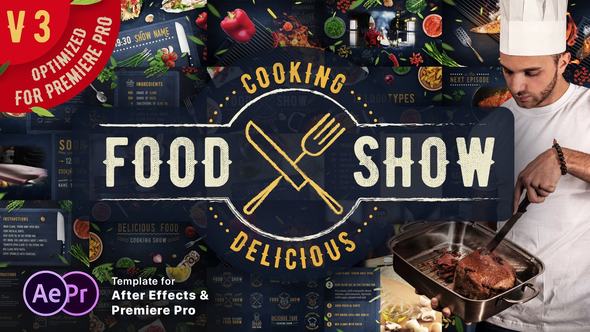 The video template will help you to create a design for a cooking and culinary show. Includes many separated, high-resolution dishes and objects. Perfect for TV, YouTube channel, website. Modern bright design template allows you to beautifully present the recipe for any dish. Template is prepared in such a way that the process of adding recipes and cooking videos, was simple and easy.
Navigation
Perfect works in Premiere Pro
Perfect works in After Effects
24/7 item support if you have any complexity with the project feel free to contact us via profile E-mail form. we will answer to you during 1 day.
For correct work the template we recommend using the latest version (2018) of After Effects and Premiere Pro
Essential Graphics feature work from Premiere v 2018.1.2
To use template in After Effects, you do not need to have Premiere pro
before using please install all free used fonts ( all links available in help file )
For change the font for the title in Premiere Pro, you will need chose a font in After Effects and then re-save the changed shot for Premiere Pro.
Compositions prepared for Premiere Pro (mogrts) : title_full_scfeen_01, title_full_scfeen_02, Lower-Third_01, Lower-Third_02, Attention, BoilingTime, Did you know, Ingredients, Instruction, Prep time, Recipe, Serving Size, Temperature, Water, Ingredients_01, Ingredients_02, Instructions_02, Transition_01, Transition_02, EndCredits_01
License
Before buying please read the Envato licence rules and FAQ about licenses
You can use the one-time purchase regular license to make multiple videos, but only for one channel, client, product, if you plan to use this template for commercial reason, you will need an extended license.

Change log:
v 3.4 – 11.10.2018
fix bug in psd Social_Branding psd
v 3.2 – 11.04.2018

- now support the latest premiere pro version  ( cc2018 12.1) also
- updated used fonts, added missed fonts
- updated HTML catalog with the preview for all scenes
- fixed social generator .psd files
- fixed bugs
- fixed bugs in mogrt files


v3.1 – 30.03.18

- added "comps as project" - https://youtu.be/EDJlrY1B140?t=274
- added Html with gif previews for all scenes
- updated tutorials folder

v3 – 27.11.17

- Added frequently used elements for Essential Graphics in Premiere pro. check preview video.
- Added navigation grid for After Effects
- Fixed and made improvements in lower thirds elements.
- Fixed small bugs
- Updated social branding psd

v2 – 29.09.17

- We have optimized the whole project and now it works 5 times faster.
- Simplified the interaction, now all elements are easily duplicated and change! 
- Added smart markers which help that you can manage the duration

20.09.16

fixed - problem with opening the project on windows computers 

Main features:

The template has modular structure ? easy change duration and duplicate
Alpha IN and OUT
No plugins required
Fully and easily customizable
Tutorial included
Music is not included
link for free font included
Image or video used on screens are not included
Works with image or video
Works with After Effects CS5.5, CS6, CC and higher
Full HD (1920×1080)

used music :
make me funky
funky night club
Keywords:
cook, recipe, organic, natural, vegan, blackboard, kitchen, youtube, colorful, vimeo, channel, broadcast, tv, television, branding, brand, rebranding, master controls, panel, one click, intro, bumper, day promo, basic lower thirds, next lower third, now lower third, info lower third, next screen, now screen, promo, tonight promo, pack, bundle, color, set, vegetable, fruits, dish, meals, kitchen, classic, classical, id, schedule, template, now watching, simple, clean, package, design, identity, modern, show, stylish, label, indie, cuisine, dining, lemon, knife, chef, pepper, vegetables, pattern, fork, cupcake, coffee, cutlery, ladle, oven, spatula, spoon, steamer, wok, Chinese, rolling pin, restaurant, meat, promo, tv show, menu, videowall, restaurant




CLICK HERE AND VIEW MORE INFO ON THIS