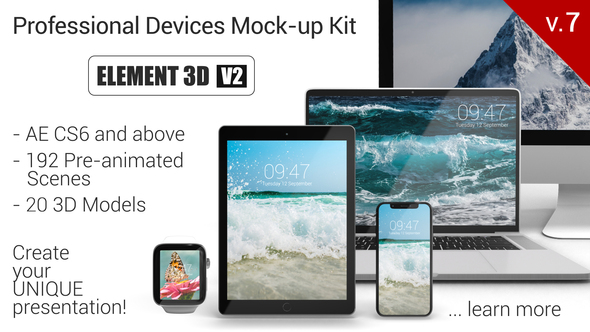 Phone 12 Pro added!
We present to your attention one of the largest sets of popular devices in the video template market. The project will help to present your programs, applications, instructions from the most successful angles. Thanks to the modular structure, you can build your individual presentation. The list of devices is constantly updated with the release of new ones – we follow this!
The project uses "Element 3D" plugin which allows 3D models to work in After Effects environment, its presence is required!
More about the project
Description:
After Effects CS6 and above
Element 3d v.2.2 plugin needed
FullHD 1920×1080; 29,97 fps
192 pre-animated scenes (32 – Mac, 32 – Phones (5C, SE, 7, 8, X, XI, Xr, 12 Pro ), 32 – Pad Air (Pro), 16 – Pad Pro + Keyboard, 16 – Watch Series 3, 32 – Book Pro TB (Air), 32 – Group devices)
10 Transitions and Textholders
Universalized Expressions control
PDF tutorial and a detailed description included
Font not included but you can get it here: Roboto
Video preview of pre-made shots
Pictures and video in devices not included in project, I took them: here,here,here,here,here,here, here

Update Log:
Ver.7.0 (21.11.2020)
- Phone 12 Pro model added
Ver.6.0 (16.08.2019)
- Phone Xr, XI models added
- Minor bugs fixed
Ver.5.0 (18.10.2017)
- Phone X, 8, SE ; Laptop Book  Pro witch Touch Bar; Pad Pro + Keyboard + Pencil; Watch Series 3 models added
- 13 Element 3D presets added
- Element 3D v.1 project deleted (morally outdated)
- Optimized scenes. Scenes with similar devices are combined. For example, scenes with the same animation of phones are combined into one, where you can select any phone model.
Ver.4.0 (10.02.2015)
- Adapted to Element 3D v.2
Ver.3.0 (23.09.2014)
- Added IPhone 6 shots (32)
Ver.2.0 (27.05.2014)
- Add another 112 animated scenes
- Added LaptopBook Air, iPod all models, Keyboard and Mouse
- Now expressions control in each scene
- You can control the shadow, light, depth of field, reflection of some devices