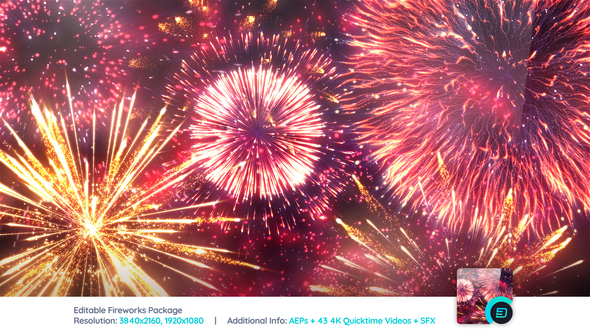 Short description
Editable Fireworks Package is a collection of fully editable 20 After Effects fireworks and 43 UltraHD 4K Quicktime videos. Fireworks are created using Particular 2 so if you wish to tweak, edit or create your own you will need this plugin. You get a great foundation to build your own fireworks on and save a lot of time. You can use this for New year's parties, Christmas, Weddings, Grand Opening or any kind of occasion suitable for little bit of fireworks
If you don't have Particular you can still use this project, since there is a pack of 43 UltraHD 4K Quicktime videos.
Testimonials
"This pack is amazing. Easy tutorials with realistic firework looks and many options. I also don't have the plugin to customize the project so I just use the .mov files and they work amazing with all types of blend modes Highly recommend saved me lots of time in AE."
– daltoncampbellvideo
"The fireworks feel realistic, and the smoke integration that seemingly is lit with the firework blast is great."
– djbills1979
"Visual Appeal, Technical Quality, Flexibility, Awesome Project d3luxxxe… :)"
– NeoArray
"Looks great! Very easy to use."
– OpenRoad
Main features
After Effects CS6 or above
2 After Effects Projects included – 4K resolution and 1080p resolution
Pack of 20 Fireworks (20 Fireworks with trails, 20 Fireworks without)
43 UltraHD 4K Quicktime videos (20 Fireworks with trails, 20 Fireworks without trails, 3 Fireworks Compositions)
SFX are Included
Video Tutorial is Included
Trapcode Particular, Trapcode Shine and Optical Flares are needed ONLY IF you want to customize the fireworks
Use it with any video editing software: After Effects, Final Cut, Premiere, Apple Motion, Sony Vegas, Avid and etc.
Can be used with any color on any kind of background
Update History
Version 2.1 (11/05/2018)
– UPDATE: Added 20 UltraHD 4K Quicktime Fireworks (20 Fireworks with trails)
Version 2 (9/21/2017)
– UPDATE: Complete redesign of project (now available in 4K and 1080p)
– UPDATE: Added 10 new fireworks (20 fireworks with and without trails)
– UPDATE: Added 23 UltraHD 4K Quicktime videos
– UPDATE: Added SFX in the pack
– UPDATE: New Video Tutorial
Version 1 (11/14/2014)
Additional information
Great background music used in the preview is made by an awesome Audiojungle author, TopProAudio.
Track is available for purchase here https://audiojungle.net/item/funk/20530328
Feel free to contact me anytime if you have any questions and I'll try to help you as much as I can. Thank you for your time and don't forget to rate. Also if you have any suggestions and requests regarding the future pack/s send me a PM.
Enjoy