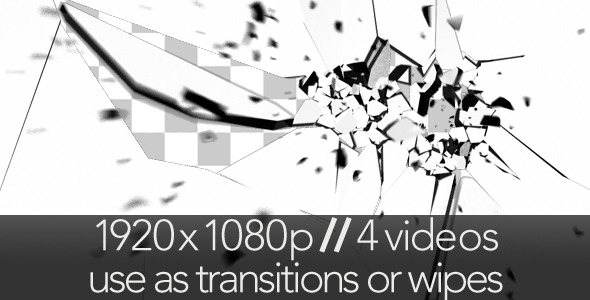 Glass Screen Breaking – 4 Transitions & Wipes
This is four different 1920×1080 HD Motion Graphic transition videos of glass being broken to reveal something behind it. Two of the four videos wipe the entire screen so you would be able to clear off or bring on a new image or video of your choosing. The other two are more just holes into the screen making it possible for it to look like you hit the screen with a ball or bullet for example. Each of these have a alpha channel and a luma channel incorporated into them to give great realistic effects. One of the full-screen wipe transition is in a slowed down animation to give more of a detailed/timelapse effect. Finally there is a tutorial included in this file incase you have any problem applying alpha/luma channels into your composition.
These videos could be used in any number of different possibilities like someone shooting at the screen, a ball hitting the screen, making it look like someone broke the camera lens, transitioning from one scene to another, wiping the screen to black or white, etc.



Video Features:

– 1920×1080p HD Videos
-17 seconds of footage
– 4 Different Styles
– Help file included


More Transitions: