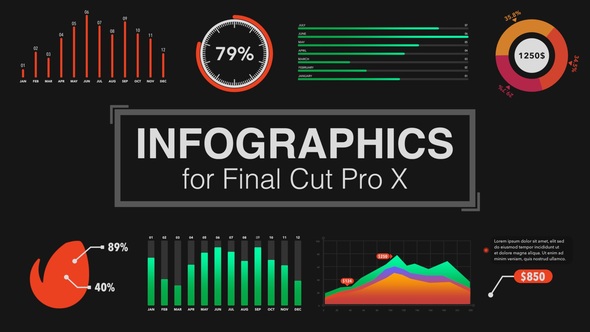 Any Questions? Please contact me.
The pack contains numerous infographic and statistics elements that can be easily layered and edited in Final Cut Pro X's timeline. Bar graphs, pie charts, line charts, circle charts, call-outs, area charts, titles and much more can easily combined in timeline for a true unique design every time. All the included elements have tuns of customization freedom right inside Final Cut Pro X, every design is built to be easy to use, modular, and inserting your data is as easy as typing it. From youtube reviewers who want to spice their fresh new video comparison with some nice animated charts, to the international corporation who wants to showcase the last year's achievements, the Infographic Builder for Final Cut Pro X pack is universal. The built in controls offers to the user the possibility of changing almost everything: data values, colors, number of bars, bar spread, bar width, text fonts, number type and many more. If the comparison requires 4 items to be compared into a vertical or horizontal bar type chart, no problem, set the number of bars to 4, customize the look, insert your data and done. Compare from 1 to 12 items at once into a single bar chart, split a pie chart up to 12 items, or illustrate price fluctuations with nice growing line charts. The pack does not contains pre built scenes, the users has the freedom to build and design new scenes every time.
The pack contains: area charts, vertical bar charts, horizontal bar charts, bullets, callouts, circle charts, line charts, pie charts, titles. custom backgrounds with transitions.
The template is compatible with both Intel and the new Apple Silicon M1 Macs.
Technical Specifications
infographics for Final Cut Pro X
variable length
In/Out animations
resizable resolution up to 4K
all values and colors are editable
on screen controls
video tutorials included
compatible with Final Cut X 10.4 or later
audio is not included, you can buy it Here
Other Final Cut X Templates