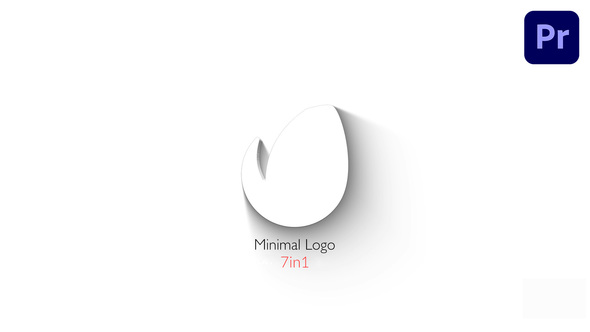 Minimal Logo | Elegant 3D Reveal | Premiere Pro
Seven clean and elegant logo reveals! Your logo is the focus here, with no extra or gratuitous effects and elements. Bring your logo to life with these impressive three-dimensional animations. This professionally designed and animated project is fantastic to use for companies, products, or events to use in any or all video communications! Perfect for YouTube, social media, or traditional broadcast media! Very easy to use with your own logo, branding colors, and fonts!
These Minimal Logo – Elegant 3D Reveal are very useful stylish designs for your logo. This Premiere Pro template is suitable for show, promo, or for any kind of your brand or product promotion and advertising, and any social channels you want, like YouTube and others. It perfectly fits your intro, opener, logo reveal, or any idea you have.
Video help file is included, check it on YouTube.
There are 7 modifications for your logo, you can create any variation you want using minimum time to design it to your own needs. Just change the logo, and all animations will look different. With the Essentials Graphic panel it's all possible and eases.
Full-color customization is giving you the possibility to make a new project every time you need or want changes! The video tutorial will save you time and give you a result only with a few simple steps! Enjoy and don't forget to rate.
Here are some Premiere Pro items I recommend
Project Features:
Add your media directly in Premiere Pro 2021;
Multi-purpose;
Universal design;
Easy color change;
7 Variations Logo design;
Well organized and easy to use;
Project Details:
Premiere Pro CC 2021 (works with essentials graphic panel) and Above; ;
4K (3840×2160p) Resolution. You can save this project in FullHD Resolution;
Duration 7 seconds long;
Video help file is included;
Well organized project;
The Fonts are not included, used Free Montserrat Font and Anton Font;
Sounds from the preview is not included;
Sounds from the preview:
Project Screenshots:
Not sure which License you need?
For basic information, check out Licenses of Videohive.
Love this item?
Create an impressive video with YouTube Pack by BRAXXU
It is a professionally designed Template with absolutely everything you'll need to create cool-looking and dynamically animated videos for your YouTube Chanel.
Create an impressive Social Media video with Instagram Pack
The Pack of Vertical Slideshows for your Social Media.