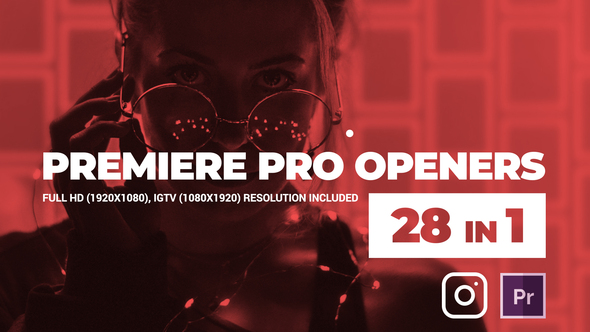 Modern Openers Pack –
is a wonderful Premiere Pro template that contains a 28 different openers.
This project is an awesome way to display your sports, fashion, products, travel or vacations pictures or videos.
Use on TV shows, commercials, Facebook and YouTube videos and impress your audience with this quick,
clean and energetically animated opener. No plugins required. 


PROJECT FEATURES:
Premiere Pro CC 2015, CC 2017, CC 2018, CC 2019, CC 2020 compatibility
Full HD (1920×1080), Stories (1080×1920) resolutions included
Video tutorial includes
Free updates
Modular construction
Non plugins version
Easy to edit
Music and video not included!
Jule 20, 2020
+ Added "Digital Slideshow IGTV" (1:00 sec)
+ Added "Glitch Sports Opener IGTV" (0:40 sec)
+ Added "Modern Stylish Opener IGTV" (0:30 sec)
+ Added "Upbeat Modern Opener IGTV" (0:30 sec)
+ Added "Glitch Opener IGTV" (0:30 sec)
+ Added "Dynamic Trap Opener IGTV" (0:25 sec)
+ Added "Modern Opener IGTV" (0:25 sec)
+ Added "Fast Modern Opener IGTV" (0:15 sec)

May 27, 2020
+ Added "Digital Slideshow" (1:00 sec)
+ Added "Glitch Sports Opener" (0:40 sec)
+ Added "Modern Stylish Opener" (0:30 sec)
+ Added "Upbeat Modern Opener" (0:30 sec)
+ Added "Glitch Opener" (0:30 sec)
+ Added "Dynamic Trap Opener" (0:25 sec)
+ Added "Modern Opener" (0:25 sec)
+ Added "Fast Modern Opener" (0:15 sec)

May 25, 2020
- Fixed bugs in Premiere Pro CC 2020

June 05, 2019
+ Added "Vertical Dynamic Modern Intro" (0:15 sec)
+ Added "Vertical Short Opener" (0:10 sec)

June 03, 2019
- Fixed bugs in Premiere Pro CC 2019

May 25, 2019
+ Added "Vertical Modern Slideshow" (0:30 sec)
+ Added "Vertical Fast Opener" (0:15 sec)

November 25, 2018
+ Added "Short Opener" (0:10 sec)

November 15, 2018
+ Added "Dynamic Modern Opener" (0:30 sec)
+ Added "Multiframe Opener" (1:00 sec)

TIMECODE
Opener 01 – 00:00 sec
Opener 02 – 00:22 sec
Opener 03 – 00:37 sec
Opener 04 – 01:03 sec
Opener 05 – 01:31 sec
Opener 06 – 01:54 sec
Opener 07 – 02:33 sec
Opener 08 – 03:30 sec
Opener 09 – 03:57 sec
Opener 10 – 04:26 sec
Opener 11 – 04:49 sec
Opener 12 – 05:22 sec
Opener 13 – 05:50 sec
Opener 14 – 06:12 sec
Opener 15 – 06:40 sec
Opener 16 – 07:36 sec
IGTV Openers:
Opener 17 – 07:44 sec
Opener 18 – 08:12 sec
Opener 19 – 08:27 sec
Opener 20 – 08:41 sec
Opener 21 – 08:51 sec
Opener 22 – 09:14 sec
Opener 23 – 09:30 sec
Opener 24 – 09:55 sec
Opener 25 – 10:23 sec
Opener 26 – 10:46 sec
Opener 27 – 11:25 sec
Opener 28 – 12:22 sec