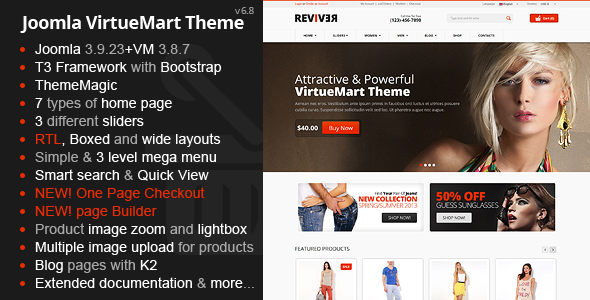 Reviver is a premium responsive multipurpose VirtueMart theme which perfectly fits for any e-commerce website. With such features like this template has you can forget about other store templates. Here are some of them: attractive design and responsive layout, T3 framework for Joomla! 2.5.x which includes Bootstarp & LESS, ThemeMagic setting panel and SEO tools, mega menu and smart search, 7 layouts of home page and 3 different sliders such as Revolution, Flex and Camera sliders, multi-languages and multi currency, wishlist and product comparison, ajax drop-down shopping cart and price filter, list and grid view for category pages, product image zoom and lightbox, previous/next item navigation and custom tabs on product page, Facebook and Twitter plugins, extended documentation and much more… Still have some doubts? Then view our full list of features and live preview.
UPDATED: Version 6.8 is Available (VM 3.8.7 + Joomla 3.9.23) PHP7.x is RECOMMENDED
NEW! #1 Drag & Drop Joomla! Page Builder
SP Page Builder is an extremely powerful drag & drop design system. Whether you're a beginner or a professional, you must love taking control over your website design.

NEW! Corporate Pages Added
With the help of SP Page Builder we have already premade several corporate pages for you. Click here to check them out!

Main Features:
Responsive Layout
Boxed and Wide Layouts
Now you can select a layout type: boxed or wide.
ThemeMagic
Makes the customization process easier by configuring unlimited parameters.

Revolution Slider Component included
You can design your slider with no css or jquery needed but with amazing effect.

Mega Menu
Powerful menu system allows you to configure the width of the sub-megamenu, add column, and add class that style for it.

NEW! RTL Support Added
Now the theme is fully right-to-left language ready. Everything is horizontally-flipped including dropdown main menu, select boxes, etc..

NEW! Polite loading
Now you shouldn't wait while all the products are loaded on the category page. The products are displaying while you're scrolling the page down. Click here to view.

NEW! Displaying products in 2 or more rows in the carousels
You can place products in the carousels in 2 rows or even more. Click here to view.

NEW! Displaying Izotope Products With Sorting & Filtering
On the main page you can specify the number of products you need without using carousels. Moreover, it's possible to sort and filter them by plenty parameters. Click here to view.

NEW! Displaying Products In Tabs
On the main page you can show all the products in tabs such as Featured, New, Hit, Special, Random and Rated. Click here to view.

NEW! 2 Types of Product Box
You can choose one of the type in the admin options panel. (click on the images below to view)
or
NEW! Second Variant Of Category Page Layout
NEW! Switch On/Off Floating Header Option
If you want that the head section is scrolled with the rest of the content, then you can just switch it off via the admin panel.

NEW! Countdown For Products
The "Deals Of The Day!" module will help you to sell certain products with a discount during limited time. You can see this module in action on the Women category page. Languages and the "Offer" label have been added as well. Click here to view.

NEW! Multiple Image Upload Plugin
A super fast tool to 1 click upload all others images to your product.
NEW! Quick Products View
Now it is possible to browse products details without refreshing the page. Click here to view.

NEW! Popup window with a promotion and newsletter subscription form
Promote your deals and get more subscribers with ease! Click here to view.
Online Documentation With Videos
Read the online documentation and watch the videos to learn more about this amazing theme.

All Features:
Multipurpose design;
Responsive layout;
Cross-browser compatibility;
Based on Bootstrap & LESS;
T3 Framework for Joomla
Joomla! 2.5.x compatible;
VirtueMart version 2.6.6;
Easy theme installation;
ThemeMagic;
SEO ready;
7 different main page layouts;
Boxed and Wide Layouts
2 different Category page layouts;
2 different Product page layouts;
3 different sliders;
Revolution slider;
Unlimited colors;
Mega menu;
Smart search;
Multi-language support;
Real multi currency support;
Wishlist – exclusevily developed;
Product comparison;
NEW! Switch on/off floating header option;
NEW! Quick products view;
Banner manager;
Possibility to adjust the layout for mobile devices via admin panel;
Touch enabled option for product sliders;
Ajax drop-down shopping cart;
Ajax price filter;
List and grid view;
NEW! Multiple Image Upload Plugin;
NEW! Countdown for products;
NEW! Popup window with a promotion and newsletter subscription form;
Custom tabs on product page;
Prev/Next item navigation;
Customizable product images;
"Sale" , "Hot" and "Limited Offer" labels;
Product image zoom and Fancybox lightbox available;
Share icons on a product page;
"Recently Viewed Products" block;
Products review & rating;
Youtube video plugin for product page;
Anti-spam captcha;
Newsletter subscibe;
"Join us on Facebook" plugin;
Twitter plugin;
Blog page;
Attractive hover effects and tooltips;
Google web fonts;
Iconic fonts;
9 PSD files included;
Extended documentation;
Support & free updates.
IMPORTANT: We do not provide the support for 3rd party plugins and modules. In this case you will have to purchase a personal license on the plugin's/module's official website in order to get the help.
What Our Clients Say:
"By far the most complete and beautiful theme fore Virtuemart.
And I am sorry for all the hassle I have been causing the developer.
Can only agree with #jannatfatima: EXCELLENT SUPPORT!
Much kudos to you!"
dssikker
"Hi, I bought this template on 7th Nov and it is working smooth as expected. The key thing which brings me back to this form is their excellence in support. Their response and resolution time is superb. No matter my issues are in their support scope or not, they always went beyond expectation. This team really has customer centric approach and understands business challenges and always come up with right solution on time. Best of luck team."
jannatfatima
"The theme is beautiful (5 stars) and the support is incredible (6++ stars)! Cheers Frkp71 )" title=" :)" /> "
Frkp71
"Exellent template and support !
First time i saw that in the templates world !"
pokopiko
"This Author is profesional i dont need to say much about him only few words.
1. fastest support in 20 min
2. Big patience with me
3. Absolutely profesional work
4. if you buy his templates you will never get disappointed
+1 for mad_velikorodnov
and sorry for my bad english "
Tonykcz
"I'm glad I bought this site. When I have questions I got a response from tech support after 8 minutes. They helped me to set up multilinguge for my site. I am very pleased with this purchase. "
mig-z
"Awesome feature and great support , thanks you."
suhadisj
"Very good work and support. Great team and product!!! Recommended AA+"
siup
"Great! It is the most professionally made templates! Sorry for bad English! And the support is just lovely! Recommended! Good luck!"
bodymaster
"The best responsive template for online store. Customize it difficult, but the support service works quickly. In this pattern, you can make various topics online stores. If anyone reads the reviews do not hesitate to buy this template!"
balisspb
"BLOODY AWESOME TEMPLATE. A point to know first though, you will need to have at least some knowledge of joomla and virtuemart as this template is way too powerful.
But if you aren't good in both of them, don't worry, the support for this template is great! Support replies take no longer than a day even though I'm living on the other side of the world, time difference!
Thanks mad_velikorodnov!"
Zackky
"What a fantastic support. I?ve got the answer after 27 minutes!!! Absolutely Great!
Thanks a lot "
dwinja
"Very Nice theme with more than Excellent support !!!
Good Job"
vdimeris
"THIS IS THE BEST TEMPLATE WITH GREATEST SUPPORT , RECOMMENDED AAAAA+++,TOO."
twittyjim77
"Great template, EXCELLENT support!!!"
kiketorres3
"Best template and best support "
fang_ru
"Probably the best template for VM here in Themeforest and also probably one of the best support here. Recommended AAAAA+++ too."
gasonline
"Templates is a fantastic work great! Technical support is VERY FAST and does not give up until you solve the problem. My recommendation for this templates."
Dijana
"Templates is fantastic,work great! I bought it twice! Technical support is VERY FAST and he does not give up until the problem is solved. Very recommended to build all kind of simple sites! Do not lose time to look for another template on themeforest or other places. thanks mad_velikorodnov"
gigistefani69
"this is my first comment, and I'm glad to give it to you my compliments for the best template virtuemart. You are really good is the first time that I find really professional support Thank you very much (sorry for my english)"
arredoannunci
"really great support….
great template + great support = super awesome
I definitely will looking for 'mad_velikorodnov' product first before another developer for my future project….
recommend…."
mijie_sty
If you like our product, don't forget to rate it





Thank you
Showcase
Reviver is a premium responsive multipurpose VirtueMart theme which perfectly fits for any e-commerce website.
Clipart:
Images for the preview were used from http://depositphotos.com , http://www.modnakasta.ua/ and they are not included in the stock file.
Warning: For module mod_virtuemart_param_filter_v2.0.zip you need to purchase activation code on official site. If you don't need this function you can switch the module off.
Warning: We provide styles for Rupostel OPC, but you have to buy plugin by yourself
Don't forget to read the template documentation!
Updates:
Version 6.8 – January 13th, 2021

UPDATED:
- Update plg_jch_optimize
-_sppagebuilder
- virtuemart-onepage-checkout

Version 6.7 – January 5th, 2021

UPDATED:
- Update Joomla 3.9.23
- Update com_virtuemart 3.8.7
- Update plg_jch_optimize 6.2.1 
- Update plg_system_jqueryeasy 4.1.0 
- Update com_sppagebuilder 3.7.7 

FIXED:
- Fix quick button  for multivatiant 
- Fix plugin cart
- Fix Go to checkout after the first Add to Cart

ADDED:
- Added script to top in filter

Version 6.6 – May 26th, 2020

UPDATED:
- Joomla 3.9.18
- com_virtuemart 3.8.2
- K2_v2.10.3
- plg_jch_optimize_6.0.1
- plg_system_jqueryeasy_v401

FIXED:
- small issues

Version 6.5 – January 7th, 2020

UPDATED:
- Updated joomla 3.9.14
- Updated com_virtuemart.3.6.10
- Updated k2
- Updated OPC 2.3.2

Do you need a shop?