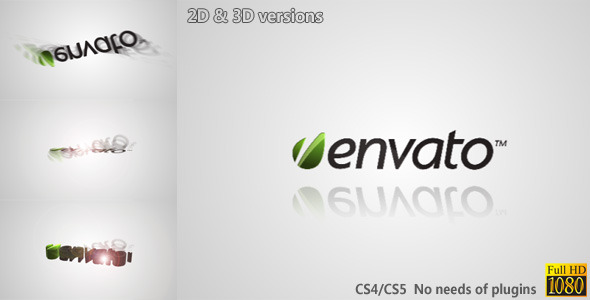 This is my new project!
Here a very simple, fresh and clean animation for your logo intro or opener.
The project consists of two versions: 2D logo and 3D logo.
The customization is very easy and the rendering is very fast (few minutes)
The project works on CS4 and CS5 AE version
Don't need external plug ins
Duration: about 6 sec
Resolution: 1920×1080 px 25fps
Very easy to customize due the step by step guide included in the main file.

Music is not included, but you can buy it here.

All our templates are provided with a step by step tutorial specifically designed to make very easy customization, also for newbies!
But if you need, we also offer a fast customization service with a little charge.
For more information contact us using the form in the 360design profile page.

Follow 360design, you will be the first to discover new useful and better and better templates!!

Want to be informed about new products, Gifts, simple and useful Tutorials and much more?
Follow, subscribe, likes, add to circles and so on