BUY FOR $15



Claps, stomps and drums with percussion and effects. Perfect for presentation, typography, action trailer, intro, commercial, game, movie, teaser, fps, podcast, slideshow, etc.
In KIT (flexible for different arrangements) https://audiojungle.net/item/stomp-and-claps-kit/19969407
Click HERE If you need even more flexible percussive track. You can try this easy editable and extra simple music kit with different claps and stomp phrases which you can sort in any way you like. Perfect for video creators!
Five versions included:
1. 0:30
2. 0:21
3. 0:14
4. 0:08
5. 1:15



Search music using catalog below:
Categories:
Instruments & Genres:
Moods:
Purpose:
They say about me: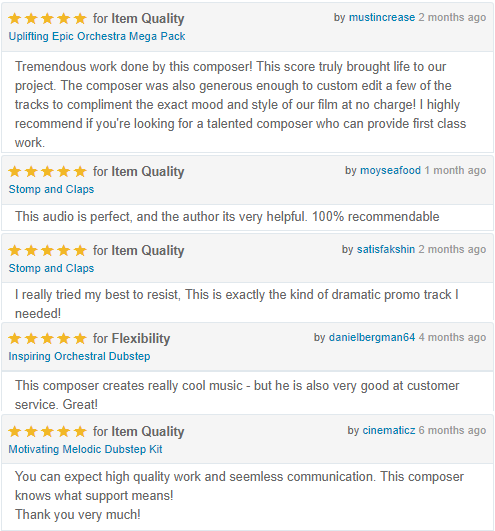 Examples of videohive projects with my music:
https://videohive.net/item/color-explosions-stomp-opener/21842558
https://videohive.net/item/travel-agency-airplane-intro/22048382
https://videohive.net/item/dynamic-typography-opener/19917655
https://videohive.net/item/typo-opener/20206265
https://videohive.net/item/smile-stomp/20106346
https://videohive.net/item/system-glitch-stomp/20009666
https://videohive.net/item/dynamic-typography-opener/19917655
https://videohive.net/item/stomp-five/20115231
https://videohive.net/item/fast-opener/20998974
https://videohive.net/item/usa-awesome-sauce/21935643
https://videohive.net/item/flip-board-text/21222699
https://videohive.net/item/my-stomp/24395869
https://videohive.net/item/lights-flashing/23769906
Krzysztof Pietras ZAIKS Poland IPI: 00742598217