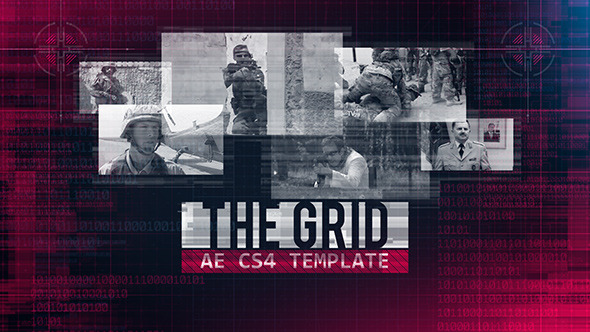 The Grid
Ideal for documentaries or fan-films. You can use the media segments for the opening chapters. Perfectly will be suitable for such themes as military, espionage, conspiracy theories, politics. Also template can be used to demonstrate the gameplay of games like Battlefield, Call of Duty, Counter-Strike.
FEATURES
AE CS4 project
Full-HD resolution (1920×1080)
No plugins required
Modular structure
Overlay segment & Lower Third (can use in interview)
60 seconds slideshow (30 media placeholder)
Text segments
Media segments
Custom duration of a segments
Music is included
Ready color schemes
Easy to edit (videotutorial is included)
MUSIC IS INCLUDED
The project includes 3+ music loops (1 loop – 8 seconds 120bpm). You can set the length of music yourself.
FONTS
Bebas by Flat-It
www.dafont.com/bebas.font
Djentfont by Rodolfo Ramirez
www.dafont.com/djentfont.font
ModeNine by Grudnuk
www.dafont.com/modenine.font
MODULAR STRUCTURE
CUSTOM DURATION OF A SEGMENTS

Media segments «A» extendable up to 10 second
Media segments «B» extendable up to 60 second
SCREENSHOTS
COLOR SHEMES
USED VIDEO
British Royal Marines from William Jackson
Bye to Conscription in Germany from PRIMEREPORTERS
NRF Video: French Soldiers conducting a raid from Mike Nicholson
Sniper Range from Dan Wiltshire
Toy soldier. Rob Nelson from Botanik
Vehicle Ambush from Mau Gris
All videos used in the preview are authorized for use under Creative Commons License
KEYWORDS
2D, 3D, album, audio, anniversary, automotive, awards, app, business, birthdays, bright, brand, broadcast, company, corporate, cinematic, chapters, camera, clean, clear, customization, change, colors, changing, contains, christmas, ceremony, clothes, demo, documental, display, dynamic, drop, design, elegance, elegant, event promo, extreme, easy, easily, epic, gallery, glow, flares, fast, family, friends, fashion, holiday, history, hollywood, inspired, inspiring, inspirational, intro, images, kinds, lens, lovely, lines, media, modern, movie, multipurpose, motivation, motivational, more, minimal, memorial, moments, mapping, magazine, night, opener, other, organize, oscar, party, photo, portfolio, promo, parallax, perfect, project, presenting, presentation, present, production, projection, package, reel, render, rendering, series, slideshow, sport, special events, slides, show, subtitles, scrolling, simple, step, suitable, stylish, story, style, store, shop, quick, trailer, titles, travel, TV, TV show, TV channel, urban, your, well, wedding, wrap, vacation, very, video, videos, vintage.
CLICK HERE AND VIEW MORE INFO ON THIS