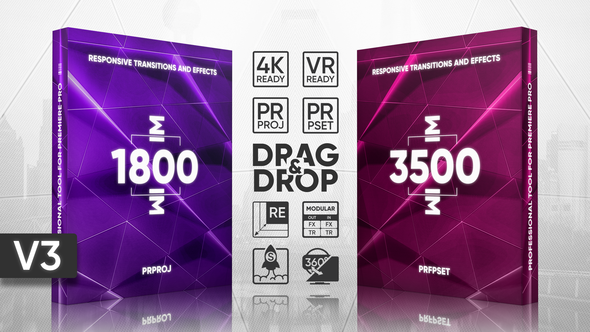 HUGE UPDATE VERSION 3
We did a lot of work on the project. And did some cool stuff.
Exclusive sounds. Now each of the transitions has a sounds.
Over 50 "Look's" will let you emphasize
the unique character of your video. Just drag and drop it on your video.


We created a collection of 100 LUT's. They will be useful for create a cinematic style of your video.


For the convenience of working with transitions, we have added a unique Poster Frame for each of them.

TRANSITIONS PRESETS PACKAGE ONLINE

Transitions Presets Package – comprehensive professional tool for creating high-quality video effects with new working standards for Adobe Premiere Pro CC 2018 ver.12.1.0 and higher.
Get Incredible results with more than 1800 transitions and effects, 3500 prfpset presets in 70 visual styles for standard and 360 degree videos, photos, titles or logos.
Unlimited possibilities for creating promo, intro, openers, social media videos, advertising, fashion, broadcast and editing work of any complexity.

PREMIERE PRO TRANSITIONS PREVIEW VIDEO GALLERY
FULL HD GALLERY INCLUDE
We support full transparency and want you to know as much as possible, what's inside. Immersive Montage created for your daily work with the implementation of our solutions in quality, speed and convenience. This professional tool is our vision of a better balance. Check out extensive video library. Full HD resolution, comfortable markers for orientation, standard and 360° players, PC and mobile versions, speed control are ready to be seen.

RESPONSIVE DRAG AND DROP
AUTO ADAPT TO ANY RESOLUTION, PROPORTIONS, FRAME RATE First and Unique Responsive Drag'n Drop system automatically adapts transitions and effects to any size, proportions, fps of your media in the range from 10 pixels – web icons, to 4096 pixels – Full 4k, without any additional actions. Hot-Swap option including. Change sequence settings – all effects automatically adapts.
360° VRAR CONTENTWorld first 360° VFX inside Premiere Pro CC for virtual, augmented reality in equirectangular monoscopic and stereoscopic projections with space speed of work.TRANSITIONS AND EFFECTS The creation of a quality content requires an understanding laws of composition, light and color, technical skills, editing process, frame movement and sense of time. We applied our level of knowledge and build over 70 visual styles of transitions and effects.
The type of viewing is standard, like as for example, you watch videos on your computer, laptop or mobile devices.

OVER 100 GLITCH TRANSITIONS









OVER 250 ZOOM TRANSITIONS


















OVER 150 JOLT TRANSITIONS












OVER 170 BLOCKS TRANSITIONS












OVER 100 BLUR TRANSITIONS






OVER 30 TENSION TRANSITIONS


OVER 70 DISTORTIONS TRANSITIONS


OVER 140 SHAPES TRANSITIONS






OVER 110 FRAMES TRANSITIONS






OVER 70 MOTION TRANSITIONS
OVER 40 SCROLL TRANSITIONS
OVER 500 OTHER STYLE TRANSITIONS AND EFFECTS



















WORK SPEED TESTS
PC CHARACTERISTICS FOR RENDER TESTS: WINDOWS 10 OS – I7 2.6 GHZ CPU – NVIDIA GTX 1070 8GB GPU – 16 GB RAM.
Look at some final render tests for soft, medium and heavy VFX in Full Hd – 1920×1080 and UHD – 3840×2160. The preview render has similar results with full quality.1920×1080 FULL HD RENDER SPEED

20 Frames – Soft transitions with FX – render time <1 second.
20 Frames – Medium transitions with FX – render time 1 – 1.5 seconds.
20 Frames – Heavy transitions with FX – render time 2-3 seconds.
25 Seconds Scene – render time around 20 seconds.

3840×2160 UHD RENDER SPEED

20 Frames – Soft transitions with FX – render time 3-4 seconds.
20 Frames – Medium transitions with FX – render time 5-6 seconds.
20 Frames – Heavy transitions with FX – render time 8-12 seconds.
25 Seconds Scene – render time around 40 seconds.

TECHNICAL REQUIREMENTSMINIMAL REQUIREMENTS

Machine Type – PC, Notebook.
Program Version – Premiere Pro CC 2018 – 12.1.0 and higher.
Operating System – Windows,Mac OS.
Processor 2 Cores 2 GHZ.
Video Adapter 1,5 GB GPU Accelerated, Cuda, Metal, OpenCL
Random Access Memory – 4GB
Hard Disc – HDD 5400 SR

RECOMMENDED REQUIREMENTS

Machine Type – PC, Notebook.
Program Version – Premiere Pro CC 2018 – 12.1.0 and higher.
Operating System – Windows,Mac OS.
Processor 4 or 6 Cores 2,6GHZ
Video Adapter 4,6,8 GB GPU Accelerated, Cuda, Metal, OpenCL
Random Access Memory – 16,32GB
Hard Disc – SSD, HDD 7200 SR

ZIP ARCHIVE – 429MB SIZE – INCLUDE:1800 TRANSITIONS AND EFFECTS


Responsive Prproj Standard Montage Mode. Size – 14.3MB.
Responsive Prproj Monoscopic Montage Mode. Size – 5MB.
Responsive Prproj Stereoscopic Montage Mode. Size – 4MB.

3500 TRANSITIONS AND EFFECTS PRESETS

Prfpset file with 3 Montage Modes. Size – 114MB.

SHORT, DETAILED STEP BY STEP FULL HD TUTORIALSFOR PRPROJ

Import Project.Size – 2MB.
Prepare Project to Work. Size – 2MB.
Project Usage. Size – 6MB.
Look's Usage. Size – 61MB.
LUT's Usage. Size – 52MB.
Montage Process with Project. Size – 50MB.

FOR PRFPSET

Import Presets.Size – 2MB.
Prepare Presets to Work. Size – 2MB.
Presets Usage. Size – 5MB.
Montage Process with Presets. Size – 42MB.

UPDATESThe project updated regular. Updates include adding new content, improving optimization and fixing minor bugs with the release of new versions Premiere Pro.SEPTEMBER 2018 VERSION 1.0

1.0 Immersive Montage Online – 5000 Transitions, Effects, Presets. The project passed tests of speed and stability on more than 10 PC and notebooks with Window, Mac OS and various characteristics from weak to advanced.

DECEMBER 2018 VERSION 2.0

Fixed bugs in transitions with new version of Premiere Pro 13.0 and 13.0.1.
Create new category – Glitch. Add more than 100 glitch transitions and over 200 presets in various styles.

APRIL 2019 VERSION 3.0

Added exclusive sounds to all transitions
Created more than 50 Look's
Developed 100 cinematic LUT's
Made a Poster Frames for previews of each transitions.

SUPPORTMUSICFor unreal music in Video Gallery thanks – Brain MirePHOTO AND VIDEO

Photos in preview not included and published with
CC0

Videos in preview not included and published with
CCBY