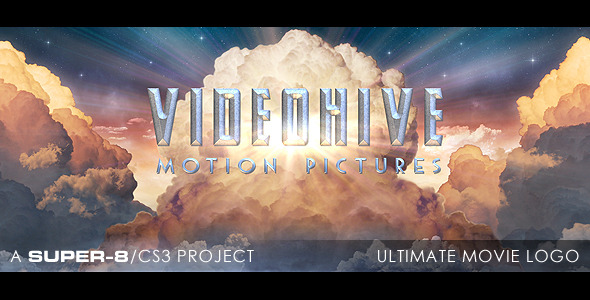 "Ultimate Movie Logo" pays tribute to the beauty and drama of a classic Hollywood movie intro; creating an atmosphere of magic and wonder for your own blockbuster production!
It's easy to use—simply change the sample logo using the text tool or drop your own logo into the designated composition, edit the tagline to include your slogan and render—"Ultimate Movie Logo" quickly builds into a dramatic crescendo revealing your company logo and slogan!
The project includes two versions: an Optical Flares version with editable effects and a version with pre-rendered effects. Both projects incorporate a pre-rendered cloud sequence to optimize your render time!
Driving the incredible visual sequences is
M. Paramonov's cinematic music
"Orchestra Logo 2" . Featuring live recording sessions of brass and strings, the powerful sound and qualitative execution will give individuality to your work! The track is not included, but can be purchased here
"Orchestra Logo 2" .
Project Features:
Logo Reveal Sequence (:15 seconds)
Pre-rendered cloud sequence
Fast Render Time
Optical Flares Version
Pre-rendered Version
NO PLUG -INS REQUIRED !
Specifications:
After Effects CS3 & Newer
HD 1920×1080 Resolution
29.97fps
Project Archive Includes:
After Effects CS3 & Newer Project Files
Optical Flares Version
Pre-rendered Version
Pre-rendered flare effects
Pre-rendered cloud sequence 
Detailed Instruction File
Notes:
Please contact me for any further assistance.
Thanks for your purchase and please rate on your download page if you like it!





Click images below to view HD resolution screenshot:
Please take a few moments to check out some of my other projects!